Decona is a multidisciplinary design studio, founded in 2011. With our love for urban spaces, good design and easy living, we create a diverse range of outdoor products for both private and public sectors.
Decona works with a wide range of outdoor products, including street furniture such as benches, tables, bike parking racks & bollards, litter solutions, newspaper racks, park & beach furnishing and more, as well as street installations and innovative products for public use. We design for:
–  public sector, such as townships and municipalities, in accordance with their needs
– private businesses, which need outdoor furniture that reflects their identity and can be approved to be placed in public spaces
– landscape architects, urban designers and all those involved in public space design and improving the quality of urban life
We work with life between buildings
Our focus lies on urban space – lively streets, recreational areas, entire neighborhoods or small outdoor places. We help clients to bring good design into spaces between buildings and make city life better.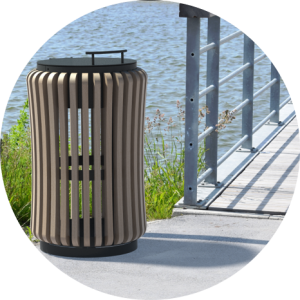 We craft contemporary products and ideas that last
Due to a multidisciplinary team and a secure network of partners, we are able to take all steps from sketch to manufacturing, turning ideas into long lasting products. The choice of materials and technical expertise helps to ensure an enduring quality of products with no compromises.